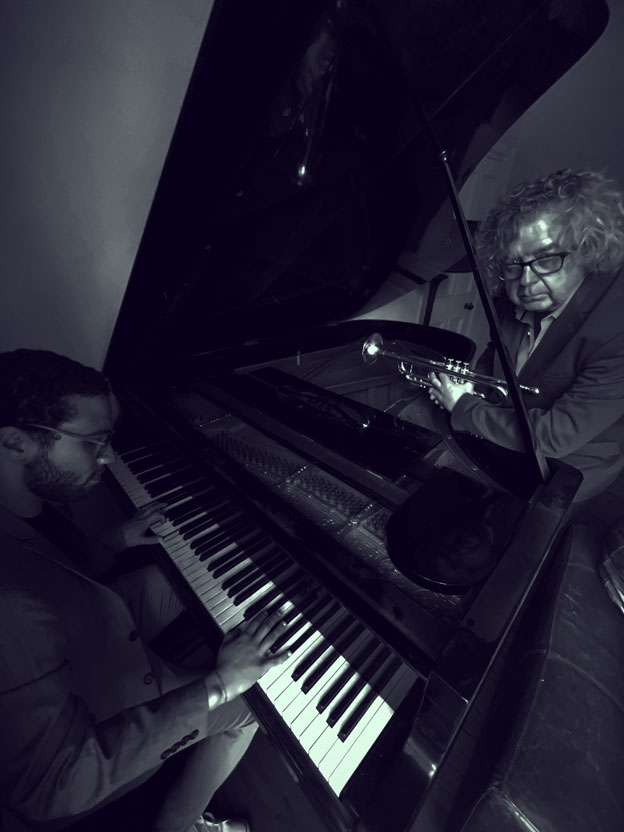 Embassy Gutters is a collaboration between Martin and Latin American jazz composer Leo Hofnug that explores jazz, electronic music and spoken word.
This project was born while Martin was artist in residence at the Seaport Festival in New York, between 2009-11.
The Embassy Gutters project featured music created by Martin and set to readings of the work of Charles Bukowski. An EP of this work scheduled for winter 2011, but family illness postponed its release. The shelved project was then forgotten about as Martin returned to Dublin and began his academic research.
Ten years later, in early 2021 Leo Hofnug heard an advanced release of Valleraphon's  "Pathos 11" (which included a spoken word element by Martin) on BBC Radio 1. Leo reached out to find the voice on the Valleraphon song and met Martin. Leo began collaborating with first on the legacy release of the original Embassy Gutters Seaport EP and the creation of new material incorporating new elements of Latin jazz combining with the electro jazz improvisation and spoken word of
Embassy Gutters.
Embassy Gutters were selected by the Improvised Music Company (IMC) and Culture Ireland to feature at the Jazzahead Music Convention in Bremen, Germany April 29/30/31 2021.
LIVE PERFORMANCES
As multi-instrumentalists, the duo can perform in a variety of live spaces that welcome the participation of local guest musicians to play with Embassy Gutters. Martin and Leo's love of film and TV streaming soundtracks, provide provocative twists to new interpretations of contemporary themes. Similarly, spoken English and Spanish word accompanied by bespoke visuals and lighting heightens the cinematic other worldly quality of the music.
The duo's eclectic pursuits offers for a range of live performances options beyond the realm of traditional live music, such as:
Public outreach talks related to Martin research on the economic and ethical implications of Artificial Intelligence technologies and its impact on the music ecosystem
Talks on social media marketing leveraging Leo's years working with social media companies (Google/Tik Tok)
Interactive Ableton Push Playgrounds that featuring Embassy Gutters original music, and draw Clancy's experience as an Ableton Certified trainer to allow non-musicians to interact and perform with the work
Jazz reharmonization workshops for young musicians
Embassy Gutters on Soundcloud: