Founder Chair of the IEEE for the Arts Committee The IEEE (Institute of Electrical and Electronic Engineers) is the world's largest technical professional organisation with over 450,000 members. In 2019 and with the help of over 3000 professionals, the IEEE published the IEEE EAD (ethically aligned design) report, which is the most comprehensive open-source publication on ethically aligned technologies for a human-centred future. Martin became the Founding Chair for the IEEE EAD for the Arts Committee (arts defined as music, literature, gaming, film, theatre and fine art). The Committee is currently composed of artists, academics and industry figures based in Paris, Moscow, Bangalore, New York, Berlin, Los Angeles and Dublin.
Martin has led the IEEE EAD paper publication "The Voice of the Artist in the Age of the Algorithm" (July 2022) and represented the IEEE Committee to EU, G20 and UNESCO representatives.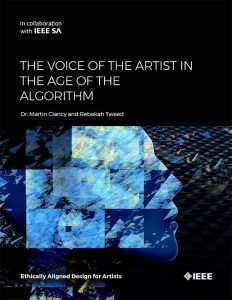 For more information on the Global Initiative on Ethics of Autonomous and Intelligent Systems, visit this page: The IEEE Global Initiative on Ethics of Autonomous and Intelligent Systems